The model of Neurogical Levels is created by Robert Dilts. The model of Neurogical Levels includes these levels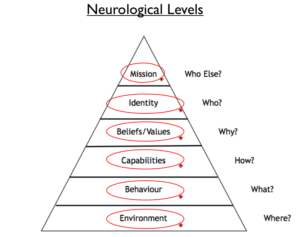 Environment (questions where?, when?). On this level individual should answer following questions:
• Where the event happens
• Who where there
• When I happens
Behaviour (main queston What?). The individual should answer
• What are you doing
• Which action did you take
Competence/abilities (main question How?) Other questions are
• Are you able to do this?
• Are you competent? Do you have skills/.
• What strategy do you have to do this?
Beliefs/Values (main question Why?) Most important questions
• What is important for you?
• How do you value this?
• What is your belief about this?
Identity (main question Who?) Important questions:
• Who are you on this level?
• Are you a person that…..
• What kind of person are you?
Mission/Spirituality (main question For what purpose?)
• What do this for you in the life?
• What is your gain in the life?
• Is this fulfilling your life?